We Connect Communities in a Whole New Way.
We want to help your Communities and Downtowns Thrive!
We help small businesses reach their local community by posting directly into your Community Channel.
Community Members can subscribe with a click!
Business SYTES = bizSYTEs for short.
Channels are Real-Time Dynamic Business Directories
Powered by your Local Merchants bizSYTEs.
Check out this Example of a Channel | Want to See More?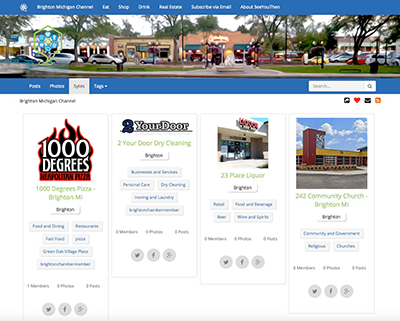 Contact us to get started today!
I want my community connected!
Call Sales: 800-285-8831
Email us: Sales@SeeYouThen.com
Connect your departments like city management, business directory, schools or civic groups. SeeYouThen sytes and channels help your community members to connect and engage across those communities.



One Spot for Community Connection.

Local SEO

Dynamic Directory

Build your members

Mobile and Web!

Subscribe via email or feeds

Social Integration

Easily Shared

Collaborative

Dynamic Real-Time Posts
Connect your community members to your...
(Community Channel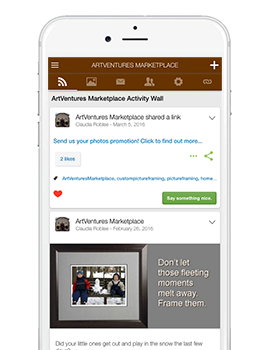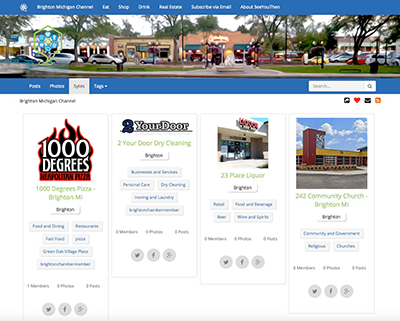 SeeYouThen Business Exchanges or bizsytes for short.
bizsytes are personalized to your business. Post to it and invite your prospects and customers to connect to it. You can also be discovered through the community channels.


---
Highlights
Create an exchange in seconds.
Personalize it with a nickname and color.
Invite your friends to join and connect.
Think of it as "sharing" but "selectively".
Community Channels are syte directories organized by location and tags.
I am a

City department

Chamber of Commerce

Local Organization

Local Business

School

Non-Profit

, it's time to connect.
Claim your bizsyte and start connecting your customers and reaching new prospects!
SeeYouThen is your community's

local

social

easy

way to connect.
So... claim and lets get connected.
---
Features at a glance.
Personal Profile
Build your profile, connect with friends.
Schedule your Posts
BizSYTeS can schedule posts.
Claim your BizSyte
Connect your customers and prospects.
@Tags for Profiles and sytes.
Pick a nickname for your profile and your bizsyte.
#Hash Tag your Posts
Tag your posts and exchanges.
Post Text, Photos, Links
Post to your profile, sytes, channels and social networks.
Activity Wall to stay updated.
Posts are updated in real-time on your walls.
Sooo easy to post content from the web.
Syndicate your content!
Connect your feed to other social networks.
Direct message your friends and syte members.
DM your friends and bizsyte members.
Get your Community Involved!
Local Reach made simple.
Invite your Customers to Join.
Direct Mobile Solution for Communication.
Landing Page that you can put anywhere! Even on your own webpage.
You can specify which members can post.
Admin Only, or Select specific members that can post.
You are in control!
Report and Block Posts and Members with ease.
Social Connection made Simple.
Create your profile to start connecting!